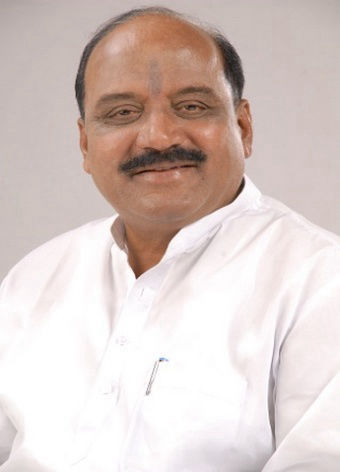 Hon. Shree. Krishnarao Parasharam Patil , is a M.L.A. of Radhanagari and Bhudargad Taluka . Since last Five years he is the Chairman of Shri Dudhganga-Vedganga Sahakari Sakhar Karkhana Ltd , Bidri , (Mouninagar) , Tal. Kagal , Dist. Kolhapur . Before that since 5th of July 1995 to the end of 26th January 2000 he was also Chairman of this factory. Mr. K.P. patil realized that a Bidri Sugar Factory in the area of Kagal could change the life of the cane grower members especially in Radhanagari , Bhudargad , Karveer and Kagal Talukas . With the help of huge experience of Chairmanship in the sugar industry, Mr. K.P. Patil has done the progress of Bidri Sugar Factory by all means .
His idea was widely welcomed and with enormous support from the local people especially in Bhudargad Taluka he was made Chief Promoter of Late Shri Swami Warke Sahakari Soot Girani, Ltd., Gargoti. In near future the Girni will starts its production. By way this production in future, the Golden Dream of the people of Bhudargad will be successfully completed .
Mr. K.P.Patil`s contribution is not limited to the activities of the Sugar Factory and Soot Girni alone , he has contributed significantly to a number of social causes. A lover of wresting and other sports , he has generously supported young sportsmen.
He is associated with a number of organizations in cooperative sector and is also actively involved in those engaged in social work , sports , promotion and cultural activities .
| | |
| --- | --- |
| Address : | At & PO : Mudhal,Tal. Bhudargad, District Kolhapur . |
| Maharashtra Cell : | 9822016677 |
| Committee Member : | Sitting Member of Kolhapur District Congress Committee . |
| Director : | Kolhapur District Central Cooperative Bank Ltd., Kolhapur since 1985 to till to day. |
| Chairman : | Hutatma Swami Warke Sahakari Soot Girani Ltd.,Gargoti, Tal. Bhudargad , Dist.Kolhapur Since 1994 to 1996 |
| Acting President : | Kolhapur District Sugarane Harvesting & Transport Association of Bullock Carts workers Ltd., Kolhapur . |
| Ex-president : | Bhudargad Tal. Sah. Dekharekh Sangh Ltd., Gargoti, Tal. Bhudargad,Dist.Kolhapur . |
| President : | Sadguru Balumana Shikshan Prasarak Mandal Mudhal, Tal. Bhudargad, Dist. Kolhapur. |